The original Waverly Hills Sanatorium, a two-story wooden structure, was opened in 1910, but the larger brick and concrete structure as it stand today was completed in 1926. The hospital was always dedicated to the treatment of tuberculosis patients, a disease that was fairly common in the early 20th Century.
It is estimated that as many as 63,000 people died as the sanatorium. Those deaths coupled with the reports of severe mistreatment of patients and highly questionable experiments and procedures are ingredients for a haunted location.
Ghost investigators who have ventured into Waverly have reported a host of strange paranormal phenomena, including voices of unknown origin, isolated cold spots and unexplained shadows. Screams have been heard echoing in its now abandoned hallways, and fleeting apparitions have been encountered.
In 1932, a nurse who worked in Room 502 was said to have jumped from the roof patio and plunged several stories to her death. No one seems to know why she would have done this but many have speculated that she may have actually have been pushed over the edge. There are no records to indicate this but rumors continue to persist.
The Louisville Ghost Hunters Society was completely overwhelmed by Waverly Hills over the course of the next several years. They introduced the sanatorium to a national television audience, held two ghost conferences there and spent scores of thankless hours taking literally thousands of people through the building on more haunted tours than they could begin to count. They would also, during independent investigations and tours, experience numerous incidents of paranormal activity.
During a less than five year period, members of the Louisville Ghost Hunters Society experienced ghostly sounds, heard slamming doors, saw lights appear in the building when there should have been none, had objects thrown at them, were struck by unseen hands, saw apparitions in doorways and corridors and more.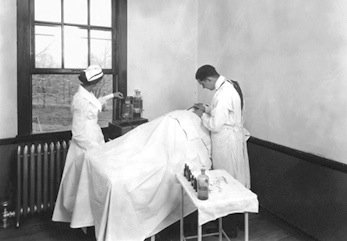 One of the legends told of Waverly Hills involves a man in a white coat who has been seen walking in the kitchen and the smell of cooking food that sometimes wafts through the room. During their initial visit, they found the kitchen was a disaster, a ruin of broken windows, fallen plaster, broken tables and chairs and puddles of water and debris that resulted from a leaking roof. The cafeteria had not fared much better. It was also in ruins and the team quickly retreated. Before they could do so though, several of them reported the sounds of footsteps, a door swinging shut and the smell of fresh baked bread in the air. A quick search revealed that no one else was in the building and there was certainly no one cooking anything in the kitchen. They could come up with no logical explanation for what had occurred.
Originally posted 2014-01-05 17:36:18. Republished by Blog Post Promoter